How to advertise on Flaguns.com
First, pick what type of advertising you want to do.
Banners
Banners are great advertising, a quick link to your site that is always on display for easy access by the forum users. You can pick two places to put your banner, up top, or over to the side. (see red circles in picture!)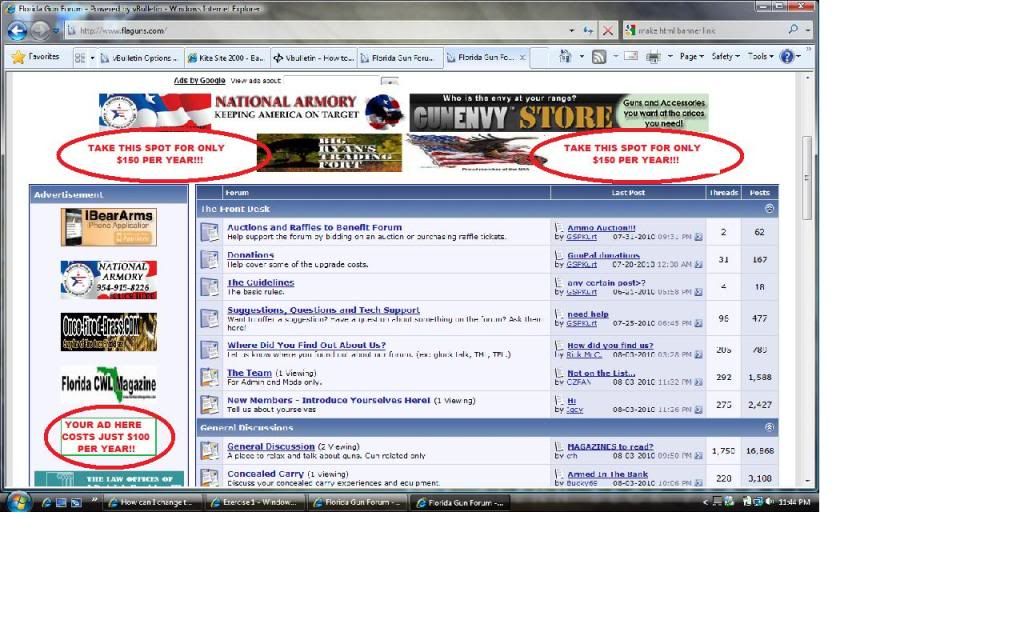 Top Banners - $150.00 per year
Side Banners - $100.00 per year
Vendor status
Accent your advertising by becoming a vendor!
Basic vendors get the ability to create threads in the
vendor forum
(see green circle), listing specials, items for sale, closeouts, clearance sales, free widgets with purchase or whatever ele they want to say to grow their business.
For an extra $5 per month, the vendor can have his very own
subforum
(see gold circle for example), for more sales ads, or tech support for your product, or whatever you wish. (You may still post in the regular vendor forum as well.)
Vendor Status - $20 per Month
Vendor & Separate Subforum - $25 per month
Vendors - If paid by check or money order, pay for 11 months ($220 or $275) and get the 12th month free.
The very best option is the
**Gold Sponsor Package**
You get the following:
Top Banner,
Vendor Status with Subforum,
and Gold Sponsor Designation!
a $450 value, for only $350 per year!!
To get your Ad started, or to gain Vendor status, simply email the site owner GSPKurt
,
khargarten@hotmail.com